Privacy policy
Declaration on information obligation / Privacy policy for Identum Communications GmbH
last updated: 2020-10-07
We are very pleased about your interest in our company. The protection and security of your personal information is very important to us and has high priority. Using the website of Identum Communications GmbH is basically possible without any indication of personal data. However, if you want to use all the services through our website, personal data processing may be required.
When we process personal information (such as a person's name, address, e-mail address or telephone number), we always comply with the General Data Protection Regulation and in accordance with the applicable national data protection regulations. In this privacy policy we inform you about the most important aspects of data processing within our website, which type of data is collected and for what purpose it is collected. Furthermore, data subjects are informed of their rights under this privacy policy. If the processing of personal data is required and there is no legal basis for such processing, we generally seek the consent of the data subject.
Identum Communications GmbH, as responsible for data processing, has implemented numerous technical and organizational measures to ensure the most complete protection possible for personal data processed via this website. Nevertheless, Internet-based data transmissions can generally have security breaches, so that an absolute protection can not be guaranteed. For this reason, every person concerned is free to submit their personal data in alternative ways, for example by telephone. If you have any questions, please contact us.
If you contact us via the form on the website or by e-mail (office@identum.at), your data will be stored for six months to process the request and (in case) follow-up questions. We will not share this information without your consent.
office@identum.at
facebook.com/identum
identum.at/impressum
If you have any questions about this privacy policy, please contact us via office@identum.at or via the contact details above.
1. Definitions and Terms
The privacy policy of Identum Communications GmbH is based on the terminology used by the European directive and regulatory authority when adopting the General Data Protection Regulation (DSGVO). Our privacy policy should be easy to read and understand for the public as well as for our customers and business partners. To ensure this, we would like to explain the terminology used. We use the following terms in this privacy policy:
1.1. Personal data
Personal data is any information relating to an identified or identifiable natural person ("data subject"). A natural person is considered to be identifiable, directly or indirectly, in particular by association with an identifier such as a name, an identification number, location data, an online identifier or one or more special features, expresses the physical, physiological, genetic, mental, economic, cultural or social identity of this natural person can be identified.
1.2. Data subject
Data subject is any identified or identifiable natural person whose personal data is processed by the controller responsible for the processing.
1.3. Processing
Processing means any process or series of operations which is performed on personal data or on sets of personal data (with or without the aid of automated procedures), such as collecting, recording, organizing, structuring, sorting, storing, adapting or modifying, reading, querying, using, disclosure by submission, dissemination or other form of provision, reconciliation or association, restriction, erasure or destruction.
1.4. Restriction of processing
Restriction of the processing means the marking of stored personal data with the aim to limit their future processing.
1.5. Profiling
Profiling is any kind of automated processing of personal data that consists in using that personal information to evaluate certain personal aspects relating to a natural person, in particular to analyse or predict aspects relating to job performance, economic situation, health, personal preferences, interests, reliability, behaviour, relocation or movements of that natural person.
1.6. Pseudonymisation
Pseudonymisation is the processing of personal data in a manner in which personal data can no longer be attributed to a specific data subject without the need for additional information, provided that such additional information is kept separate and subject to technical and organizational measures to ensure that the personal data is not assigned to an identified or identifiable natural person.
1.7. Controller or controller responsible for the processing
The controller is the natural or legal person, public authority, or other institution, that - alone or together with others - decides on the purposes and means of processing personal data. Are the purposes and means of such processing determined by European Union law or the law of the Member States, the law may intend to provide a controller and the specific criteria for his designation.
1.8. Data processor
Data processor is a natural or legal person, public authority, agency or other body which processes personal data on behalf of the controller.
1.9. Recipient
Recipient is a natural or legal person, agency, agency or other entity to whom personal data is disclosed, whether it is a third party or not. However, public authorities which may receive personal data in accordance with union or national law in connection with a particular mission are not considered as recipients; the processing of those data by those public authorities shall be in compliance with the applicable data protection rules according to the purposes of the processing.
1.10. Third party
Third party is a natural or legal person, public authority or institution other than the data subject, the controller, the processor and the persons under the direct responsibility of the controller or processor are authorized to process the personal data.
1.11. Consent
Consent of the data subject is any freely given, specific, informed and unambiguous indication of wishes by which the data subject signifies agreement for personal data relating to him being processed.
2. Collecting general data and information / data transmission / data logging
The website of the Identum Communications GmbH collects a series of general data and information each time the website is accessed by an affected person or an automated system. This general data and information is stored in the log files of the server. Captured is data as (1) the browser types and versions used, (2) the operating system used, (3) the website from which a system accesses our website (so-called referrers), (4) the sub-web pages accessed on our website, (5) the date and time of access to the website, (6) the anonymized Internet Protocol address (IP address), (7) the Internet service provider of the systems and (8) other similar data and information used in the event of attacks on our information technology systems.
When using this general data and information, Identum Communications GmbH does not draw conclusions about the data subject. Rather, this information is required to (1) properly deliver the contents of our website, (2) to optimize the content of our website and to advertise it, (3) to ensure the continuous functions of our systems and the technology of our website, and (4) to provide law enforcement authorities with the necessary information for prosecution in the event of a cyberattack. This anonymously collected data and information is therefore used statistically and further evaluated by Identum Communications GmbH with the aim of increasing data protection and data security in our company in order to ultimately ensure an optimal level of protection for the personal data processed by us. The anonymous data of the server log files are stored separately from all personal data provided by an affected person.
All data is collected only for the purpose of statistical evaluation. A transfer to third parties, for commercial or non-commercial purposes, does not take place.
3. Use of personal data
Personal data will only be collected or processed if you voluntarily provide this information. Unless there are any necessary reasons for doing business, you may revoke the previously granted approval of your personal data storage at any time in writing (such as by e-mail or fax) with immediate effect. Your data will not be disclosed to third parties, unless disclosure is required by law.
4. Information, modification and deletion of data
In accordance with applicable law, you can always ask us in writing whether and which personal data we have stored about you.
5. Security of your data
Your provided personal data will be secured by taking all technical and organizational security measures so that they are inaccessible to unauthorized third parties. When sending very sensitive data or information, it is recommended to use the postal service, as a complete data security cannot be guaranteed by e-mail.
6. Cookies
Cookies are small data sets that are stored on your computer. The purpose of these cookies is, for example, to better monitor the connection during your visit to our website and to provide more effective support when you visit our website again. Without such interim storage, data that has already been provided would have to be entered again for some applications. A cookie only contains the data that a server outputs and / or that the user enters upon request (e.g. structure: information on domain, path, expiration date, cookie name and value). Cookies therefore contain purely technical information, no personal data, but this technical information can collect personal data.
The most common types of cookies are explained below for your understanding:
Session cookies: While you are active on a website, a session cookie is temporarily stored in the memory of your terminal device, in which a session identifier is saved, e.g. B. to prevent you from having to log in again every time you change pages. Session cookies are deleted when you log out or lose their validity as soon as the session has expired automatically.

Persistent cookies: Persistent cookies store a file on your device for the period specified in the expiration date. These cookies allow the website to remember your information and settings the next time you visit. This leads to faster and more convenient access, since you B. You do not have to change your language setting for the website again.

Third party cookies: Third-party cookies are session or persistent cookies that come from a provider other than the website operator. These cookies collect information such as length of stay, page views, movement via links, etc. They are used, for example, to show certain advertising content resulting from search processes, websites visited and the like. These cookies cannot be read by us.
8. Cookies required for consent on this website
You have the option at any time to give us your consent for the cookies listed below and you can revoke your consent at any time.
We use the following types of cookies on this website, the scope and functionality of which are explained below:
Performance cookies: These cookies help us to understand how visitors interact with our website by providing data about which websites or search terms bring users to our websites, how long they typically stay on our websites or how many sub-pages they visit on average.
We use this data to improve the content of the website and to compile statistics for internal market analysis purposes on the individual use of the website.
These data do not allow any direct conclusions to be drawn about your person. All data we collect is only processed in aggregated form.
Functional cookies: These cookies are necessary to provide extended functionality and personalization. They can be set by us or by third-party providers whose services we use on our sites.
Cookies for marketing purposes: These cookies are used to collect information about the websites visited by the user in order to create target group-oriented advertising for the user and to display advertisements tailored to his interests. They are also used to limit the display frequency of an ad and to measure and control the effectiveness of advertising campaigns. This information can be shared with third parties, e.g. advertisers.
If you wish, you can generally suppress the storage of cookies through your web browser preferences, which will allow you to decide whether or not you wish them to be stored. However, we would like to point out that if you block cookies, some pages may no longer be displayed correctly or properly used.
Cookies that are required to carry out the electronic communication process or to provide certain functions you require are stored on the basis of Art 6 Paragraph 1 lit f GDPR. website, we have a legitimate interest in the storage of cookies for the technically error-free and smooth provision of our services.
List of cookies requiring consent: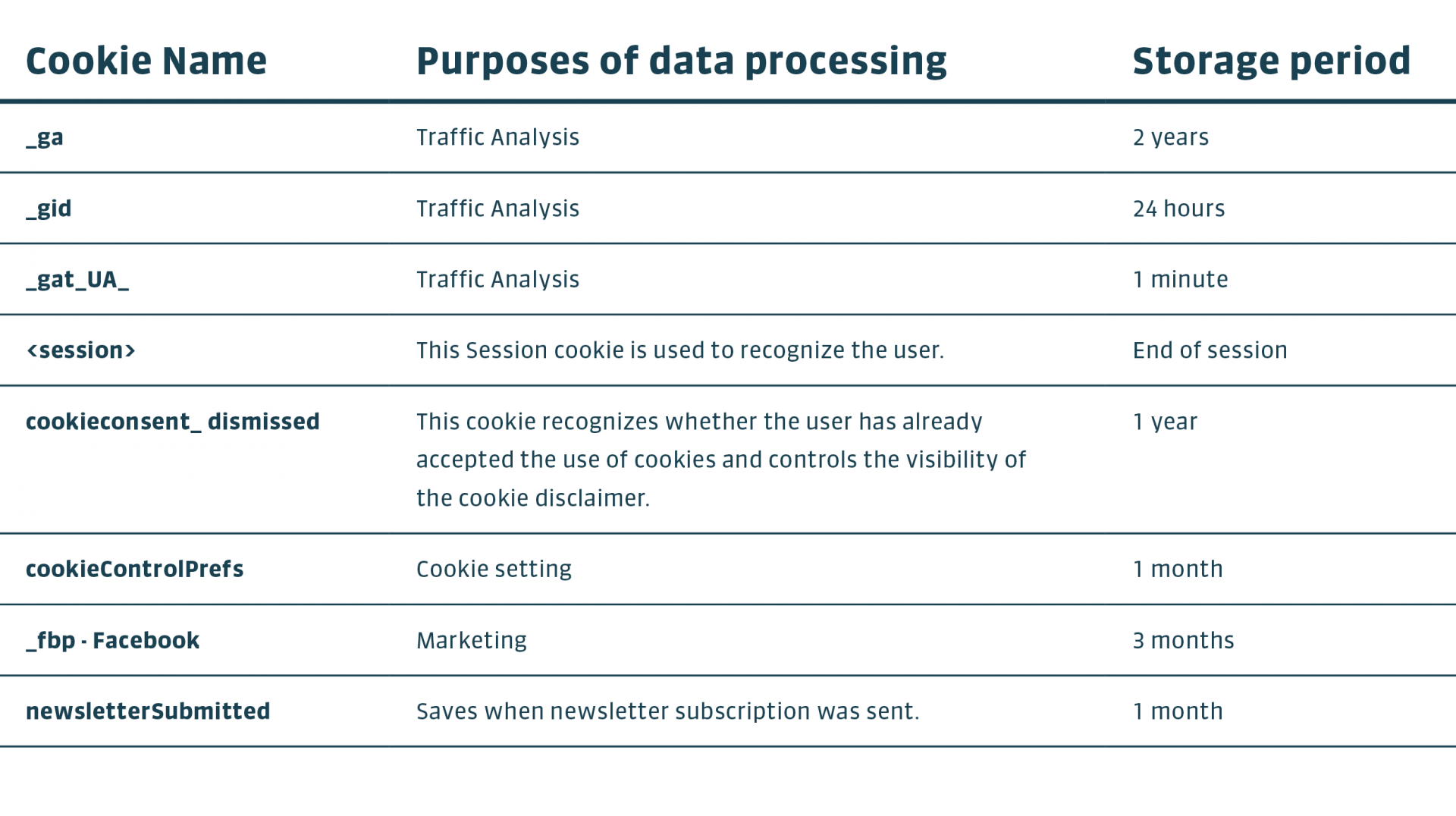 9. Use of the Google Tag Manager
This website uses the Google Tag Manager. This service allows website tags to be managed through a single interface. Google Tag Manager only implements tags. This means: no cookies are used and no personal data is collected. The Google Tag Manager triggers other tags, which may collect data. However, Google Tag Manager does not access this data. If deactivated at the domain or cookie level, it will remain in effect for all tracking tags as far as they are implemented with the Google Tag Manager.
10. Use of Google Analytics
This website uses Google Analytics, a web analytics service provided by Google, Inc. ("Google"). Google Analytics uses "cookies", which are text files placed on your computer, to help the website analyse how users use the site. The information generated by the cookie about your use of the website (including your IP address) will be transmitted to and stored by Google on servers in the United States.
In our case the IP anonymization is activated, so Google will truncate/anonymize the last octet of the IP address for Member States of the European Union as well as for other parties to the Agreement on the European Economic Area. Only in exceptional cases, the full IP address is sent to and shortened by Google servers in the USA.
On behalf of the website provider Google will use this information for the purpose of evaluating your use of the website, compiling reports on website activity for website operators and providing other services relating to website activity and internet usage to the website provider. Google will not associate your IP address with any other data held by Google. You may refuse the use of cookies by selecting the appropriate settings on your browser. However, please note that if you do this, you may not be able to use the full functionality of this website.
Furthermore, you can prevent Google's collection and use of data (cookies and IP address) by downloading and installing the browser plug-in available under https://tools.google.com/dlpage/gaoptout?hl=en-GB.
11. Use of Facebook components
Our website employs components provided by facebook.com. Facebook is a service of Facebook Inc., 1601 S. California Ave, Palo Alto, CA 94304, USA.
Each time our website receives an access request equipped with a Facebook component, the component prompts your browser to download an image of this Facebook component. Through this process, Facebook is informed precisely which page of our website is being visited.
When you access our site while logged into Facebook, Facebook uses information gathered by this component to identify the precise page you are viewing and associates this information to your personal account on Facebook. Whenever you click on the like-button, for example, or enter a comment, this information is transmitted to your personal account on Facebook and stored there. In addition, Facebook is informed of your visit to our website. This occurs regardless of whether you click on a component or not.
If you wish to prevent the transfer to and storage of data by Facebook about you and your interaction with our website, you must first log out of Facebook before visiting our website. The data protection policies of Facebook provide additional information, in particular about the collection and use of data by Facebook, your rights in this regard as well as the options available to you for protecting your privacy: https://de-de.facebook.com/about/privacy/
In addition, tools are freely available on the market that can be used to block Facebook social plug-ins with add-ons from being added to all commonly used browsers: http://webgraph.com/resources/facebookblocker/
You can find an overview of Facebook plugins at https://developers.facebook.com/docs/plugins/
12. Use of twitter components
Our website employs components provided by Twitter. Twitter is a service of Twitter Inc., 795 Folsom St., Suite 600, San Francisco, CA 94107, USA. Each time our website receives an access request equipped with a Twitter component, the component prompts your browser to download an image of this component from Twitter. Through this process, Twitter is informed precisely which page of our website is being visited.
We have no control over the data that Twitter collects in the process, or over the extent of the data that Twitter collects. To the best of our knowledge, Twitter collects the URL of each website accessed as well as the IP address of the user, but does so solely for the purpose of displaying Twitter components. Additional information may be obtained from the Twitter data privacy policy, at: http://twitter.com/privacy.
You may change your data privacy settings in your account settings, at http://twitter.com/account/settings.
13. Use of YouTube components with enhanced data protection mode
On our website we use components (videos) of YouTube, LLC 901 Cherry Ave., 94066 San Bruno, CA, USA, a company belonging to Google Inc., Amphitheatre Parkway, Mountain View, CA 94043, USA. To this end, we use the "enhanced data protection mode" option provided by YouTube.
When you display a page that has an embedded video, a connection will be made to the YouTube server and the content will appear on the website via a communication to your browser.
According to the information provided by YouTube, in "enhanced data protection mode", data is only transferred to the YouTube server, in particular which of our websites you have visited, if you watch the video. If you are logged onto YouTube at the same time, this information will be matched to your YouTube member account. You can prevent this from happening by logging out of your member account before visiting our website.
Further information about data protection by YouTube is provided by Google under the following link: https://www.google.de/intl/de/policies/privacy/
14. Newsletter
If you subscribe to our newsletter, you give your consent to data being processed by a service provider located in the United States.
We use the newsletter to provide you with regular updates about our offers. To receive our newsletter, you will need a valid email address. We will then check the email address entered to ensure that you are actually its owner or if its owner has agreed to receive our newsletter. By registering for the newsletter, we will save your IP address and date and time of registration. This will be used in case a third party misuses your email address to subscribe to our newsletter without your knowledge.
We will not compare the data collected during newsletter registration with any other data that might be collected by other components of our site.
15. Newsletter by MailChimp
We use MailChimp to send our newsletter to our subscribers. MailChimp is a service provided by The Rocket Science Group, LLC, 512 Means Street, Suite 404, Atlanta, GA 30318, USA.
The data stored when you registered for the newsletter (email address, name, IP address, and time and date of registration) will be sent to a server operated by The Rocket Science Group in the United States and stored there in accordance with its Safe Harbour Agreement.
Further information about the data protection offered by MailChimp can be found at:
http://mailchimp.com/legal/privacy/
You may cancel your newsletter subscription and revoke your consent to the storage of this data at any time with future effect. For instructions to take this step, please refer to the confirmation email and each newsletter.
16. Newsletter tracking
Our newsletter includes so-called web bugs that allow us to recognize if and when an email has been opened and which links in the email have been clicked by its recipient.
This data is stored by us so that we can best align our newsletter to the wishes and interests of our subscribers. Accordingly, the data thus collected is used to send personalized newsletters to each recipient.
If you subscribe to our newsletter, you agree that your data and your user responses will be stored electronically by newsletter tracking so that you can receive a personalized newsletter. By revoking the consent to receive the newsletter, the consent to the aforementioned tracking is revoked.
17. Privacy on applications/application process as well as publication of job advertisements
Identum Communications GmbH collects and processes the personal data of applicants for the purpose of processing the application process. The processing can also be done electronically. This is particularly the case if an applicant submits corresponding application documents by electronic means, for example by e-mail or via a web form located on the website, to the Identum Communications GmbH.
If Identum Communications GmbH concludes a contract of employment with an applicant, the transmitted data for the purpose of the employment relationship are stored in compliance with the legal regulations. If no contract of employment is concluded with the applicant, the application documents will be automatically deleted two months after notification of the rejection decision, provided that deletion does not conflict with any other legitimate interests. Other legitimate interest in this sense, for example, a burden of proof in a procedure under the General Equal Treatment Act (AGG), if a longer storage is necessary or if you have explicitly agreed to a longer storage in our prospect database.
18. Your rights
In principle, you have the rights to information, correction, deletion, restriction, data portability, revocation and opposition. If you believe that the processing of your data violates data protection law or if your data protection claims have otherwise been violated in a way, you can complain to the supervisory authority. In Austria, this is the data protection authority.
19. Routine erasure and blocking of personal data
Identum Communications GmbH shall process and store the personal data of the data subject only for the period necessary to achieve the purpose of storage, or as far as this is granted by the European legislator or other legislators in laws or regulations to which the Controller is subject to.
If the storage purpose is not applicable, or if a storage period prescribed by the European legislator or another competent legislator expires, the personal data are routinely blocked or erased in accordance with legal requirements.
20. Legal basis for the processing
Art. 6 I lit. a GDPR serves as the legal basis for processing operations for which we obtain consent for a specific processing purpose. If the processing of personal data is necessary for the performance of a contract to which the data subject is party, as is the case, for example, when processing operations are necessary for the supply of goods or to provide any other service, the processing is based on Article 6(1) lit. b GDPR. The same applies to such processing operations which are necessary for carrying out pre-contractual measures, for example in the case of inquiries concerning our products or services.
Is our company subject to a legal obligation by which processing of personal data is required, such as for the fulfilment of tax obligations, the processing is based on Art. 6(1) lit. c GDPR. In rare cases, the processing of personal data may be necessary to protect the vital interests of the data subject or of another natural person. This would be the case, for example, if a visitor were injured in our company and his name, age, health insurance data or other vital information would have to be passed on to a doctor, hospital or other third party. Then the processing would be based on Art. 6(1) lit. d GDPR.
Finally, processing operations could be based on Article 6(1) lit. f GDPR. This legal basis is used for processing operations which are not covered by any of the abovementioned legal grounds, if processing is necessary for the purposes of the legitimate interests pursued by our company or by a third party, except where such interests are overridden by the interests or fundamental rights and freedoms of the data subject which require protection of personal data. Such processing operations are particularly permissible because they have been specifically mentioned by the European legislator. He considered that a legitimate interest could be assumed if the data subject is a client of the Controller (Recital 47 Sentence 2 GDPR).
21. The legitimate interests pursued by the controller or by a third party
Where the processing of personal data is based on Article 6(1) lit. f GDPR our legitimate interest is to carry out our business in favour of the well-being of all our employees and the stakeholders.
22. Period for which the personal data will be stored
The criteria used to determine the period of storage of personal data is the respective statutory retention period. After expiration of that period, the corresponding data is routinely deleted, as long as it is no longer necessary for the fulfillment of the contract or the initiation of a contract.
23. Provision of personal data as statutory or contractual requirement; Requirement necessary to enter into a contract; Obligation of the data subject to provide the personal
data; possible consequences of failure to provide such data
We clarify that the provision of personal data is partly required by law (e.g. tax regulations) or can also result from contractual provisions (e.g. information on the contractual partner). Sometimes it may be necessary to conclude a contract that the data subject provides us with personal data, which must subsequently be processed by us. The data subject is, for example, obliged to provide us with personal data when our company signs a contract with him or her. The non-provision of the personal data would have the consequence that the contract with the data subject could not be concluded. Before personal data is provided by the data subject, the data subject must contact us via office@identum.at.
The controller will then clarify whether the provision of the personal data is required by law or contract or is necessary for the conclusion of the contract, whether there is an obligation to provide the personal data and the consequences of non-provision of the personal data e.
If you want to prevent this transmission and storage of data about you and your behavior on our website by the respective provider, you must log out of these providers before you visit our site.
You can find out more about the data collection of the respective providers on their web platforms.
24. Change of this privacy policy
We may update this policy from time to time. In the event we make material changes that reduces your rights under this policy, we will post a prominent notice in this section of this policy notifying users when it is updated. If you have any questions or concerns about this policy or its application, or if you believe your personal information has been used in a way that is not consistent with this policy or your specified preferences, please contact us by mail: office@identum.at
25. Contact
Due to legal regulations, the website of Identum Communications GmbH contains information that enables quick electronic contact with our company as well as direct communication with us, which also includes a general address of the so-called electronic mail (e-mail address). If an affected person contacts the data controller by e-mail or through a contact form, the personal data provided by the data subject will be automatically saved.
Such personal data, voluntarily transmitted by an individual to the controller, is stored for the purpose of processing or contacting the data subject. There is no disclosure of this personal data to third parties.
26. Disclaimer
These policies described above are specific to our website and do not extend to sites to which we have links.
27. Contact information:
Name and address of the company responsible for the processing:
The person responsible within the meaning of the General Data Protection Regulation, other data protection laws in the Member States of the European Union and other provisions with a data protection character is:

Identum. Agentur für Markencharisma
Identum Communications GmbH
A - 1080 Wien, Strozzigasse 32-34/2
TEL +43 1 480 22 72
FAX +43 1 480 22 72 - 30
FN 299173 k
ATU63665509