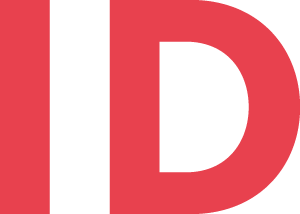 Warning message
The PHP filter has been deprecated. Please use the "Limit allowed HTML tags" filter instead.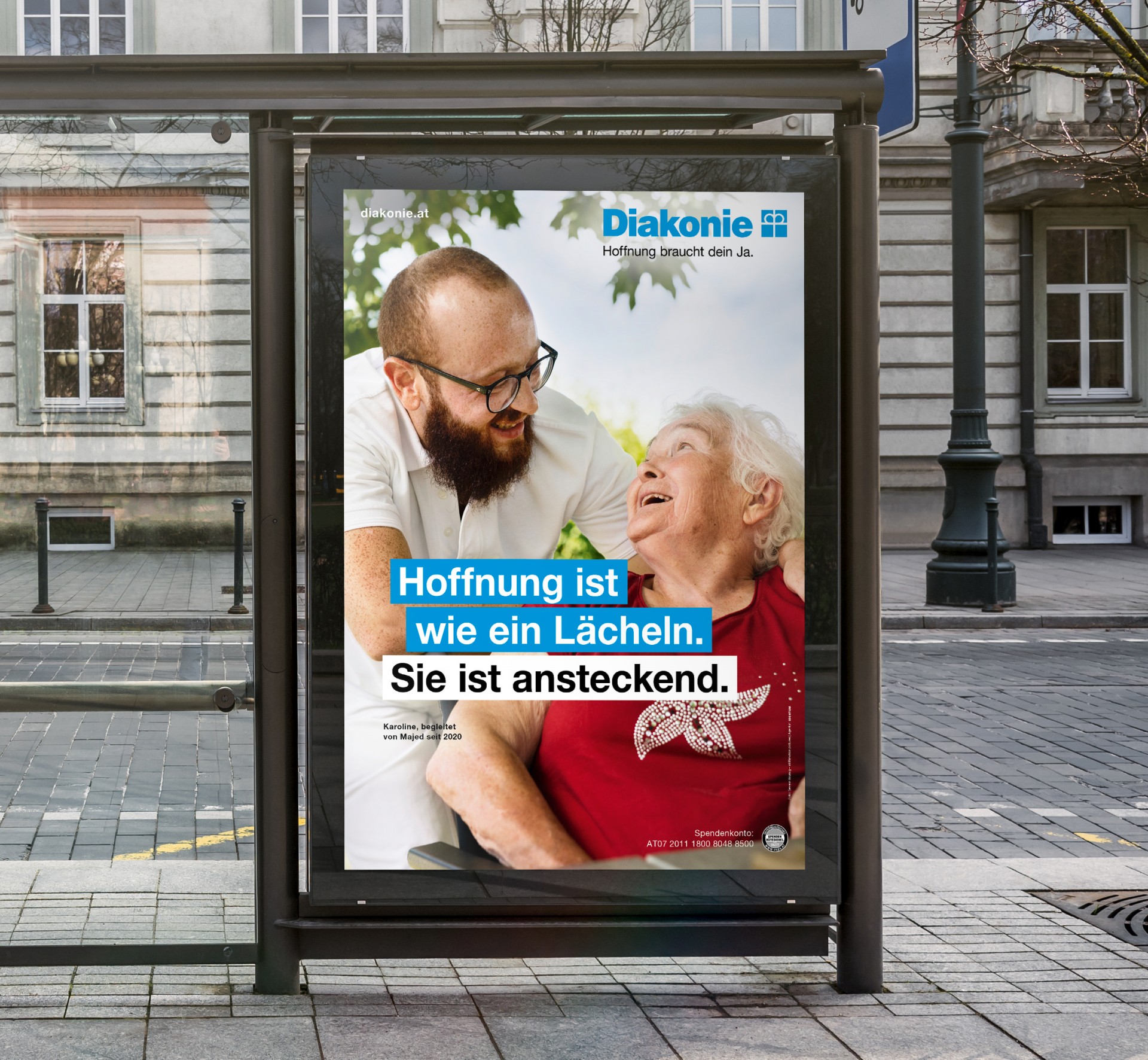 Hope needs your yes.
Diakonie Campaign
Our long-standing cooperation with the Diakonie was successfully continued this year. With a new concept and the revised claim "Hoffnung braucht dein Ja" (Hope needs your yes), the "Hoffnungsträger:innen" campaign was given a remake that effectively shows what Diakonie employees work on with their heart and soul every day: To infect people with hope.
Where hope is contagious
As one of the five major social organisations in Austria, the Diakonie supports people in difficult life situations and advocates for social justice. The focus is on supporting people to take their lives into their own hands and to participate in society. Especially in times of crisis, the Diakonie wants to pass on what encourages and sustains these people: Hope.
In the course of this year's new campaign, we asked ourselves the central question: How is hope passed on and how can we make it tangible through the campaign? Our conclusion: Through smiles.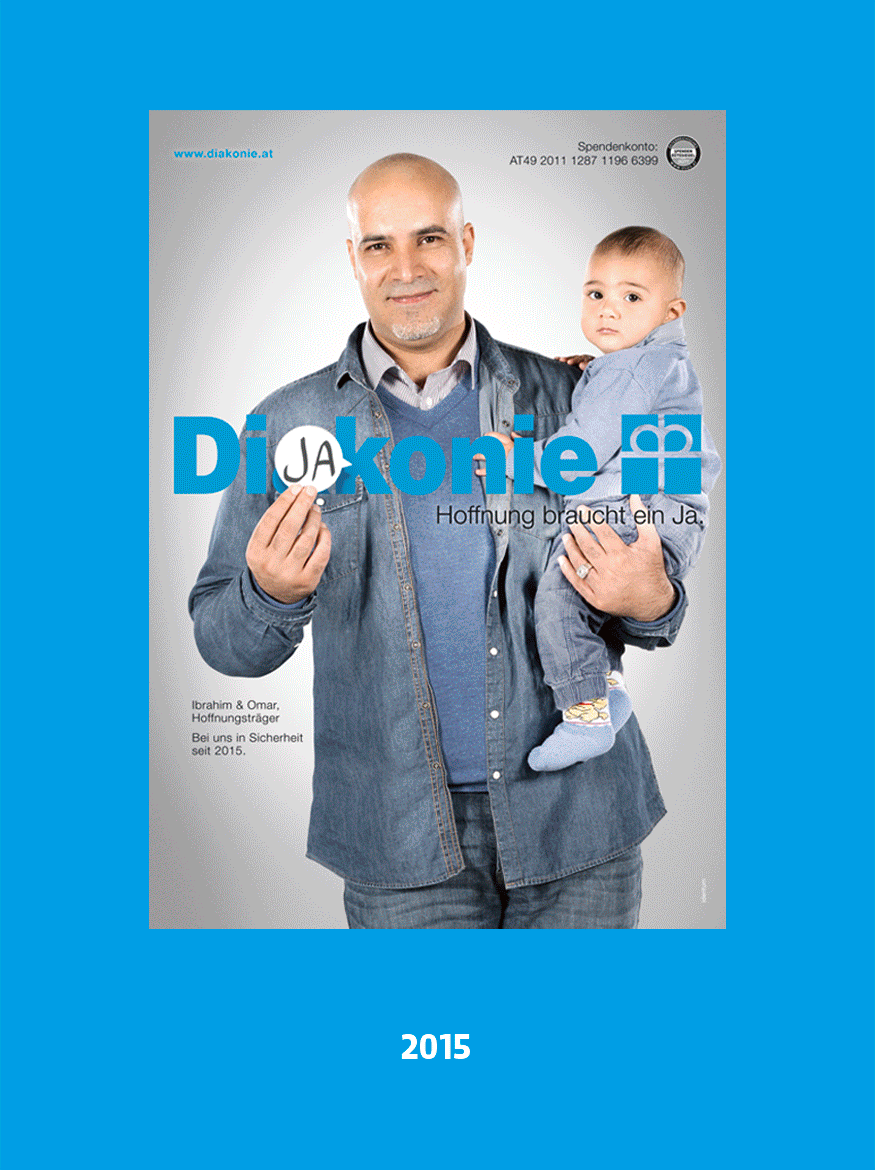 Space for a new concept
We have been supporting the Diakonie pro bono in the context of social advertising since 2011. While the Hoffnungsträger:innen campaigns of the last 5 years were characterised by the speech bubbles and the sujets were graphically updated over the years, there was a strategic and conceptual reorientation for the current campaign. The aim was to make Diakonie visible, tangible and stronger.
In addition, the campaign was expanded to include a fundraising component that works for all of Diakonie's anchor themes, and a sponsorship concept was developed.
Hope and smiles? Both are catching!
The commitment with which the staff of the Diakonie carry out their daily work is expressed in our campaign with the overarching theme "Smile" in a visually strong and emotional way. The campaign under the slogan "Hope is like a smile - it is catching" focuses on people from the Diakonie environment with their emotional life stories. When we smile at someone, it is almost impossible not to smile back. In developing the campaign, we realised that it is very similar with hope: If you give someone hope, that person can grow with hope and gives hope back.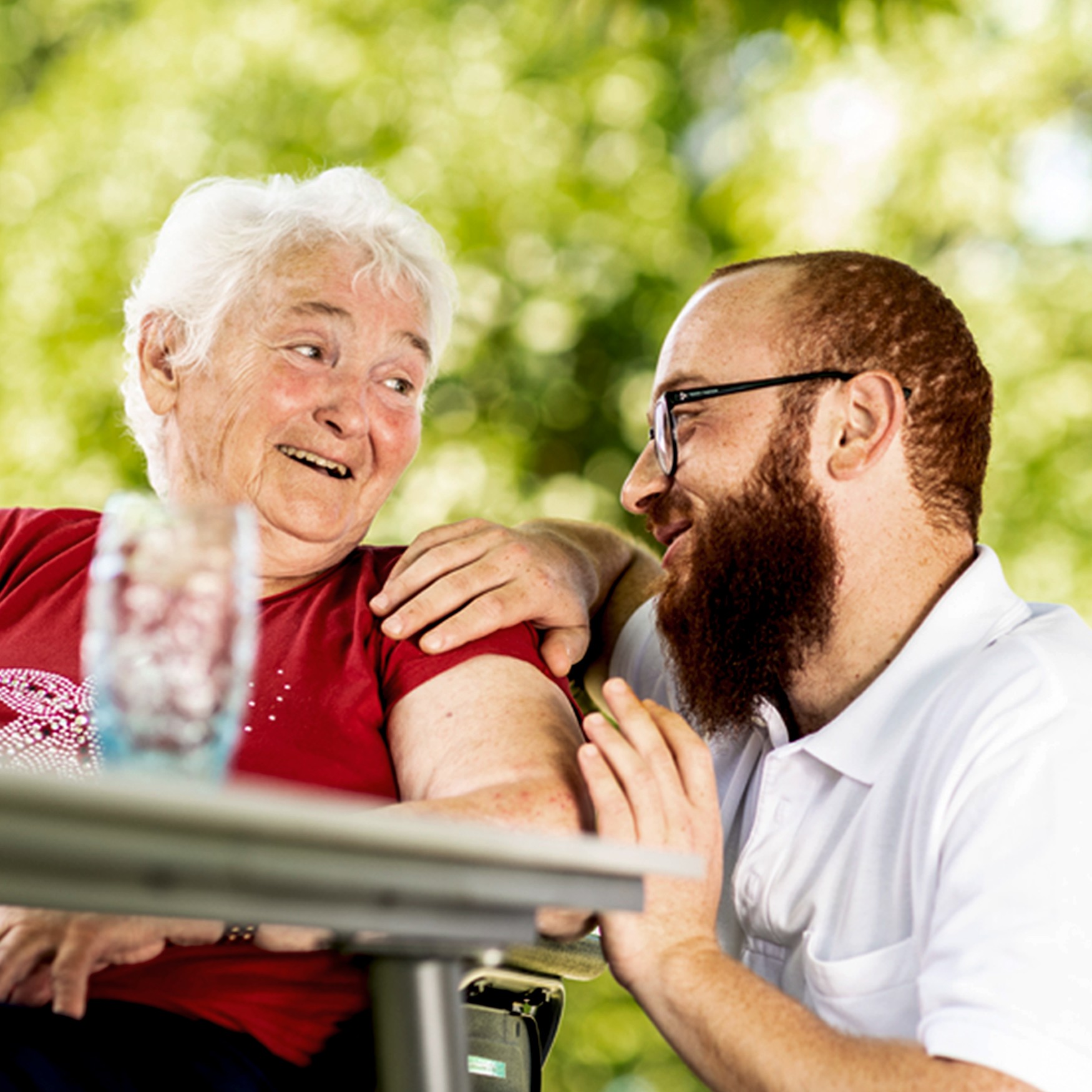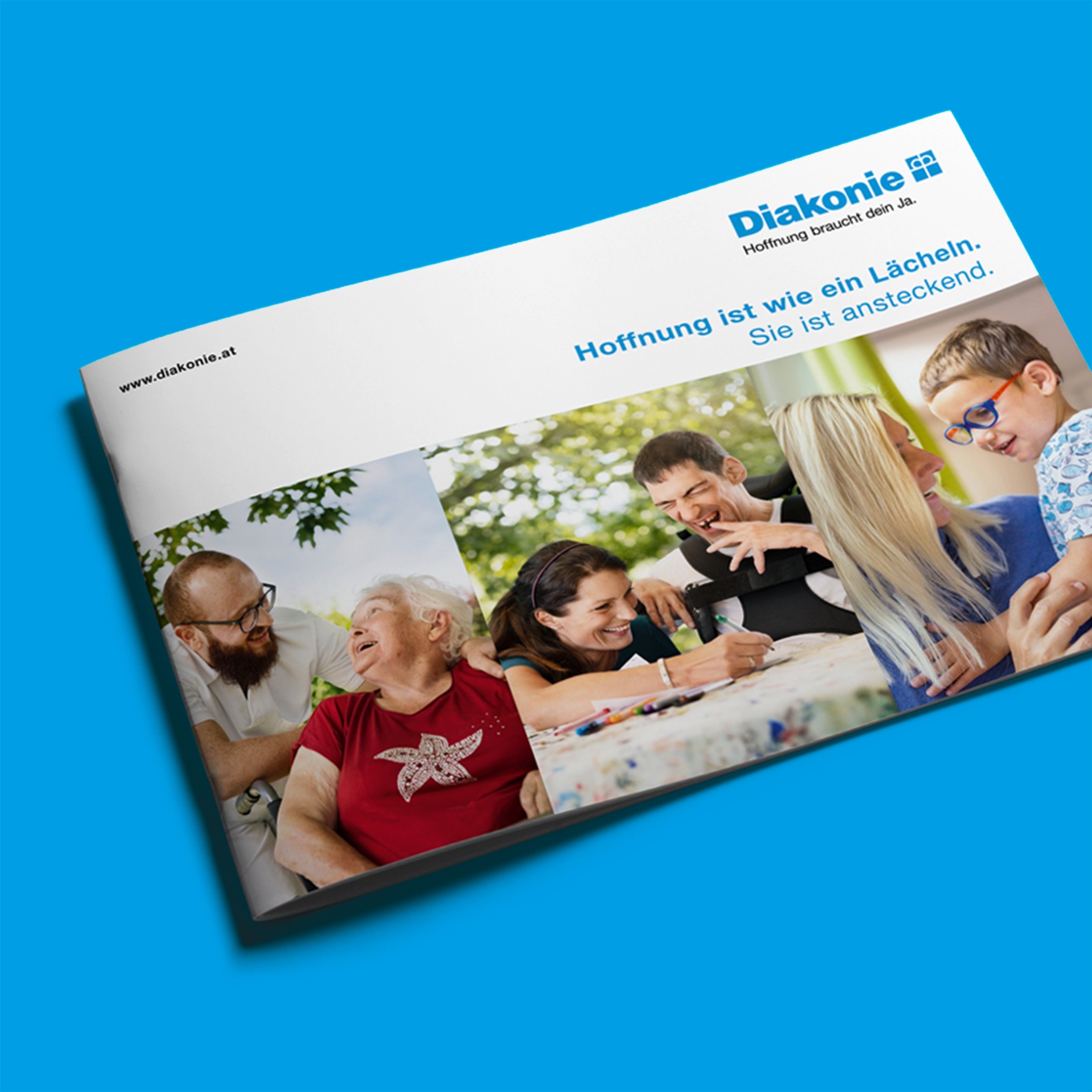 Reaching out with hope
With the remake of the Hoffnungsträger:innen campaign, we were once again able to get clients and staff of the Diakonie in front of the camera. The campaign materials such as posters, TV and radio spots as well as the image brochure can be seen and heard all over Austria. The range of communication across various channels thus also contributes to the goals pursued with the new edition of the campaign.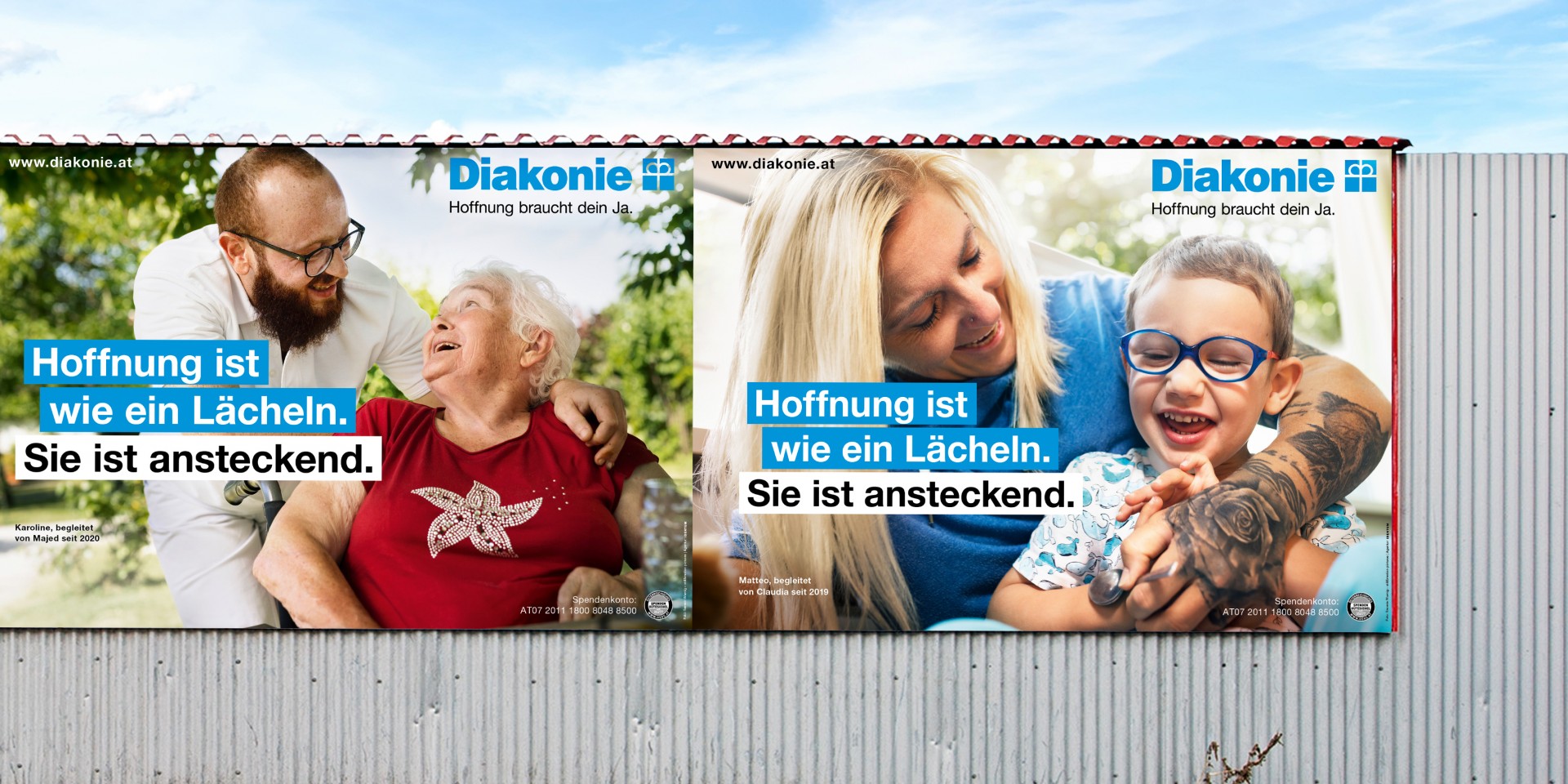 On location at the "Hoffnungsträger:innen"
We were not only responsible for the conceptual part, but also for the realisation of the shootings in the various locations of the Diakonie. We were able to convince ourselves of the power of smiles during this shoot with the employees and clinicians of the Diakonie, because we were definitely infected by their bright smiles.

© Severin Wurnig - still&motion pictures